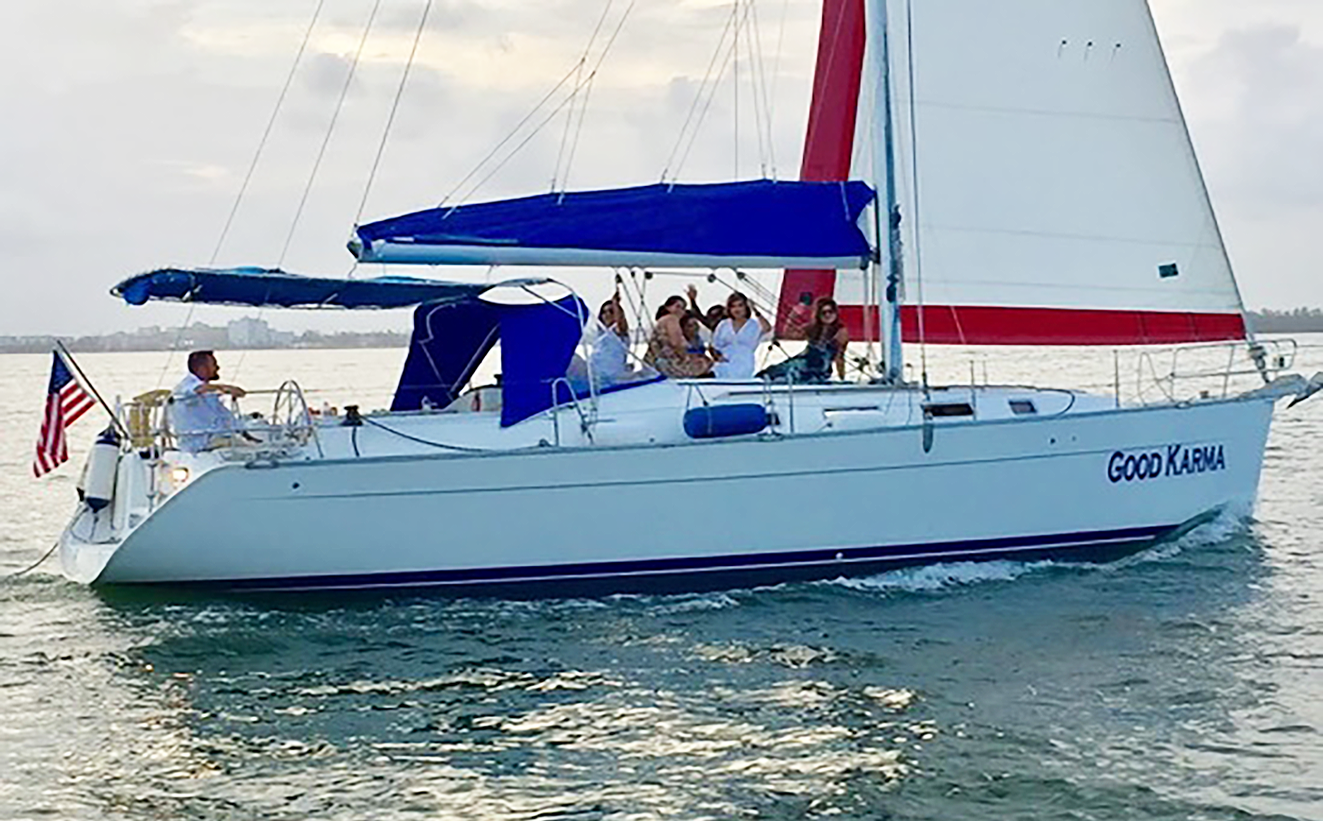 #1 Private Sailing Experience in Miami
Best Rates in Miami
Sail Away with Us
You Just Found Paradise
Sail * Recharge * Enjoy
Welcome to Sailing Adventures Miami
Your Sailboat Charter on Biscayne Bay in Miami awaits you! Come join Captain Jeff on GOOD KARMA and relax as he takes you and your friends on a breathtaking sailboat cruise or sunset cruise through Biscayne Bay and surrounding areas in Miami. With over 18 years of expert sailboat sailing experience, throughout the Florida coast and keys, Captain Jeff Meredith will create a sailing experience for you that you will remember for a lifetime.
Experience first hand the relaxing beauty of a peaceful sail on our 2-hour, 4-hour and all day Private Sailboat Charter. We also offer a 2 or 3 hour Sunset Cruise throughout Biscayne Bay, a perfect way to end the day with friends. Our sailing cruises are perfectly equipped to help you celebrate your special occasion: engagement, birthday or anniversary.
On this site you'll find all of the valuable information needed to prepare you for a sailing adventure aboard our ship. Not sure what to bring for your sailing adventure? We've taken the guessing work out of it for you. Simply check out our What To Bring page to help you prepare for your sailing experience.
GOOD KARMA is well equipped with a convenient swim platform so you can jump in and enjoy a refreshing swim in the ocean. Ready to wash off the ocean after your swim? Our sailing vessel includes the amenities of a fresh water shower and full bathroom for your comfort.
Pack your sunscreen and leave your work worries behind! We are ready to treat you to a world-class sailing experience.
Call Sailing Adventures Miami at 248-613-6140 to schedule your Sailboat Charter today!
Read more